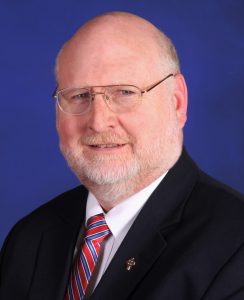 Rev. Dr. H. Powell Dew, Jr. – Interim Minister
Family
Born January, 1962 in South Boston, Virginia
Parents are Harold P. Dew (Raeford, NC) and Bettie Chloe Payne Dew (North Wilkesboro, NC).  He has one sister, Mary Ruth Robosson.  They currently reside in Greenville, NC.
At the age of 10, he moved with his parents to Raleigh, NC in 1972.
Education
J.O. Sanderson High School, Raleigh, NC (1976 – 1980)
Mars Hill College, Mars Hill, NC (1980 – 1982)
University of North Carolina at Chapel Hill, Bachelor of Science in Business Administration (1982 – 1984)
Campbell University, Buies Creek, NC, Master of Divinity (1999 – 2004)
Campbell University, Buies Creek, NC, Doctor of Ministry (2007 – 2010)
Family
While at Mars Hill College, Powell met his future wife, Jo Anne Sanderson Dew (of Kinston NC). Powell and Jo Anne were married on Sept. 1984 in Kinston, NC.
Powell and Jo Anne have one daughter, Amber. She is married to David Arnold, and they live in Stantonsburg, NC.
In Oct. 2004, Powell's wife Jo Anne died from an extended illness with non-Hodgkin's lymphoma cancer.
He remarried in May 2006 to Sharon Rouse of Grifton, NC.  Sharon has one daughter Kaitlyn Hooks, and two grandchildren, Madelyn and Tyson.
Dr. Dew and Sharon built a log cabin beside the creek in Stantonsburg, NC where they now reside.
Secular Work Experience
Property Management, Raleigh NC (1984-1987)
Baptist Children's Home, Kinston NC (1987) – House Parents
Carolina Ice, Kinston, NC (1988) – Route Sales
Carolina Dairies, Kinston, NC (1988-1993) – Shipping and Quality Control
Coastal Wholesale, Kinston, NC (1993-1994) – Supervisor
Lenoir Community College, Kinston, NC (1994 to 1995) – Instructor, Basic Math and Algebra. Sign Language Interpreter.
MelloButterCup Ice Cream, Wilson, NC (1995 to 2001) – Shipping Supervisor.
Wayne Community College, Goldsboro, NC (2005) – Old Testament
Wayne County Public Schools, Pikeville, NC (Aug. 2017 – Dec. 2018) – 4th Grade Teacher
Ministry Positions
Pastor, Fremont Missionary Baptist Church, Fremont, NC (June 2001 – Aug. 2017)
Executive Director of Christian Learning Centers of NC (Dec. 2009 – Aug. 2017)
Supply Minister, Spilman Memorial Baptist Church, Kinston, NC (Aug. 2017 – Dec. 2018)
Interim Minister, Spilman Memorial Baptist Church, Kinston, NC (Jan. 2019 – Present)
Other Interests
Serves as a Board Member in the Town of Stantonsburg (2011, 2013 to Present)
Has served as a Guardian ad Litem volunteer in Wayne County (2004 – 2017)
Republican Candidate for US Congress in 2016 for the 1st Congressional District.